Wimba has raised PLN 4 million from Level2 Ventures. Now it is entering the animal orthopedics market with 4D-printed orthoses and prosthetics
Wimba has created a highly innovative and automated process for creating dedicated orthoses and prosthetics for dogs using 4D printing and a smartphone app. Back in June 2022 Level2 Ventures invested PLN 4 million in the startup at the pre-seed stage.
Now, three months after the company's launch, Wimba has presented patented orthoses for dogs created with 4D printing technology and plans for further development.
The solution was created in collaboration with veterinary orthopedic experts and has been tested in specialized clinics. Wimba's orthoses are already available in Poland. The company is entering the UK market in November and plans to start sales in the US in the first half of 2023. Wimba prostheses and orthoses will be available in more than 1,000 veterinary clinics in the European Union and the United States by the end of 2023.
Wimba is a VetTech startup founded by three Founders - Franciszek and Gregory Kosch, who have spent the last few years successfully building a company called Glaze Prosthetics, which produces human prostheses using 4D printing technology, and Maciej Szczepanski, a veterinarian, and winner of the prestigious London Vet Show 30under30 competition, who was the first in Poland to use 3D printing technology to produce prosthetics for animals.
- For the past 6 years, we have been innovators in human orthopedics and were the first to bring to market a fully functional 4D printed prosthetic hand accessible to everyone. We noticed that our expertise was needed even more in veterinary because the veterinarian had very limited options for treating dogs for movement disorders resulting from limb loss, joint damage, or degeneration - says Grzegorz Kosch, co-founder of Wimba.
- There are about 700 million dogs in the world, and as many as 20% of them have an orthopedic problem. Bone cancer alone causes more than 2 million amputations in dogs every year. Until now, there has been a lack of systemic solutions in the form of customized orthoses and prostheses for dogs that can meet the ever-increasing demand from doctors and patients at an affordable price and short lead time. Wimba's experienced team, supported by animal orthopedic experts, has created a unique treatment system based on innovative, easily scalable technology that guarantees real improvements in canine function. Wimba's solution fills a gap in the market, offering a new quality of treatment, as we have verified in tests with veterinarians. Wimba is already in talks with veterinary clinic networks in the UK, the European Union, and the United States to have the company's products available in more than 1,000 veterinary clinics worldwide by the end of 2023 - comments Magdalena Pawlowska, Partner, Level2 Ventures.
Comprehensive therapy system printed in 4D
The new treatment standard includes innovative 4D printed prostheses and orthoses for dogs, WimbaScan - an app with AI that allows the veterinarian to scan a limb using a smartphone, MJF (Multi Jet Fusion), and a set of treatment algorithms with the ability to modulate the characteristics of the orthopedic equipment.
- The main goal is to correct defects caused by degeneration, accidents, or congenital problems of animals in a way tailored individually to each animal. Wimba is not only currently available with orthoses, but also prostheses and WimbaTherapy - a comprehensive system for the treatment of movement disorders in animals, which will enter the market in the first quarter of 2023 after testing in clinics. With individualized assistance, each dog can count on tailored, comprehensive therapy, and the veterinarian will gain new treatment options previously unavailable - says Francis Kosch, co-founder, and CEO of Wimba.
- As a veterinarian, I think first and foremost about animals and their welfare. Animals are incredibly diverse, so we should approach each one individually. The WimbaTherapy system will make this possible, and modulating the characteristics of the orthopedic equipment will ensure an effective treatment process. Appropriate treatment algorithms developed in cooperation with top Polish, as well as foreign, doctors and zoophysiotherapists will allow us to create a new standard of treatment - adds Maciej Szczepanski, co-founder and Clinical Manager at Wimba.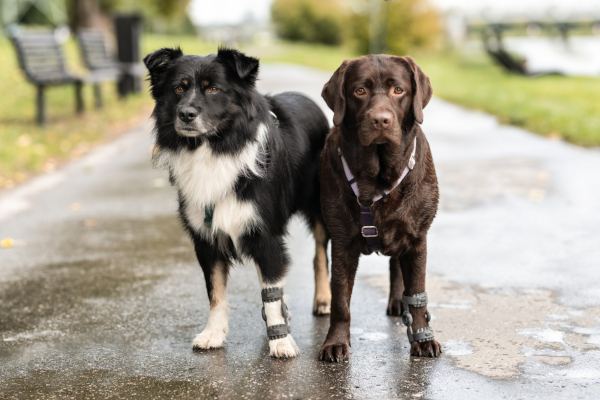 Veterinary medicine for the 21st century
Wimba's solution reduces product delivery time from 4-6 weeks (in the traditional method) to 7 working days. The weight of 4D printed orthoses is on average 6x less than traditional products currently available on the market and the intake time has been reduced from over 1.5 hours to 15 minutes and greatly simplified, making the vet's job easier and eliminating errors. Wimba is also "zero waste" - the average production waste in traditional manufacturers of orthoses made by the old method is 3 kg in Wimba, due to the 4D printing process, it is 0 kg.